Our Humble Beginnings
Edward and Norman Pfund worked hard to build their business, and settled in Holiday Park, PA, a quiet suburb of Pittsburgh. The father and son team traveled to their hometown of Lima, OH, and bought hearse and ambulance stock units, working on them in their driveway on weekends. When finished, Edward and Norman would return or a trade-in the improved vehicles. If an ambulance or hearse sold, they'd drive back to Lima and get another vehicle to do the same.
Their current location in Lower Burrell, PA was built in 1965 and sold lots of Cadillac and Pontiac 'combinations,' which could be used as either hearses or ambulances. In 1973, they transitioned to working on van-type ambulances, and began designing and servicing modular ambulances in 1975.
Today, Pfund Superior Sales Co., Inc. is still a family-owned business and our hardworking team is proud to continue Edward and Norman Pfund's remarkable legacy. With over 58 years of experience selling and servicing emergency vehicles, we still believe that the tenets of honesty, integrity and value are the foundation of our business.
Contact Us
Pfund Superior Sales Co., Inc. strives to provide the best in high-quality ambulances and wheelchair vans, and we are committed to providing our customers with the competent and professional service they deserve. Pfund Superior Sales serves communities in Pennsylvania, Ohio  and we proudly participate in the PA COSTARS and State of Ohio Procurement purchasing programs. To learn more about us and the services we offer, please call 724-339-1600.
Sales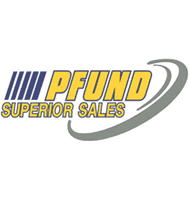 Service